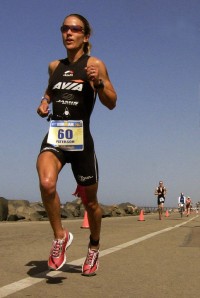 So much to talk about…so little time!
Basically I'm a little Scottish lassie who packs a mean punch!  But here's the longer version…
While growing up, my 'thing' was rugby…yes you heard it right, rugby! I loved to get dirty and I loved to fight boys. Being the only gal outta 250 boys in the squad, I learned pretty quickly how to take care of myself! However, as with most good things in life, it came to an end. I was too old to play with the boys, so I found an equally crazy sport called triathlon. Since the tender age of 14, I've competed all over the world for the British and Scottish triathlon team, developing awesome friendships and seeing some amazing parts of the world.
However, as most young athletes do, I got disillusioned with the sport. Sick of being last in drafting races and constantly banging my head off a brick wall with swimming, I gave it up! I met my husband Simon Marshall and together we moved out to San Diego (ironic really that I should give up triathlon when actually moving to the birthplace of triathlon).
Always having been a creative little thing (I got my BA degree in Drama), I decided to do my Masters degree in Theater. I flourished under my new found career path and began climbing my next impossible ladder to success: Hollywood.  I started acting in student films and then independent films (so far I have 17 of them under my belt), until I met my now writing-producing partner Ian Stokell. Together we formed our own production company called Sliding Down Rainbows Entertainment Inc., and we have since produced several short films and our first feature film: www.interglacialromance.com. More recently we acquired the rights to the WW1 novel All Quiet on the Western Front, and have written an amazing script with the hope of getting a director and some talent attached!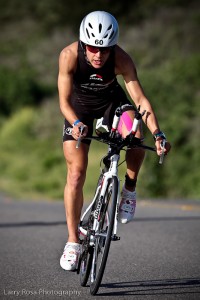 So, through all of this soul searching and artistic expression (not to mention 5 years),  I actually realized I missed competing. I started slowly with running (hey why not start with your strengths right?), and after winning a few races, I found that I had a different approach to the sport. I genuinely enjoyed training, I genuinely enjoyed racing and what's more, my body felt different. It felt more mature and I guess I had a better understanding of how it worked. I didn't want to do drafting races anymore, I needed to find a sport that suited my strengths instead of crippling me because of my weaknesses….and thats when I found Xterra. Dirt, hills and cool people! I'll have me some of that!
So now having done 2 seasons of Xterra, my first real winter of proper training (with my new awesome coach Vince Fichera), I am finally fulfilling my potential! I am so excited about this winter as the training is going really well, the film stuff is getting there and married life is sweet….