Man its been the most rewarding and hardest thing I've ever done! Organizing and executing a camp like this is emotionally and physically draining….I give 110% to these guys at every session and then the prep begins for the next one.
Seeing the transformations of all these great athletes is nothing short of awe inspiring. I love that I can help them on this journey and have an impact on their lives!
I can't thanks my sponsors enough for helping me make this happen: Kswiss, Trek, GU, CEP, Drymax, X-endurance, AquaSphere,Speedfil, Compex, GoPro Cameras, Slowstep Cycling, Rehab United, Final Fit, Fuel Factor, Performance and Nutrition Coaching.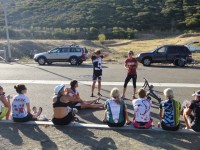 For sure I'm gonna do another one in Feb to get folks motivated for the upcoming 2012 season…yeah!!!!